Why You Should Install Shower Screen In Singapore
When planning to redecorate your bathroom, you have plenty of options to decide on, from wall repainting to replacing room essentials like sink and shower heads. Many homeowners nowadays also opt to install a shower screen in Singapore as part of their bathroom renovation project. Shower screens largely replaced shower curtains, which can get unpleasant and mouldy in the long run. Installing a shower screen into your bathroom adds a sense of modernity, cleanliness and
class.  
Shower screens come in a wide array of designs such as frameless, framed sliding, framed pivot, and framed corner entry. Depending on the size of your bathroom and your preference, any of these designs will surely become a great addition to this part of the house.
Some Reasons Why You Should Have A Shower Screen in Your Bathroom
Hygienically Better For Family 
Undeniably, the bathroom is one part of the house where bacteria and viruses can be found. Many bathroom sections can become breeding grounds for germs if they are not properly and frequently cleaned, especially the areas that often get wet. When certain areas become moistened or wet, they can be a germ magnet. A shower screen can help isolate the water from the shower area and prevent flooding the entire bathroom. A glass is a non-porous material that will not harbour bacteria or germs. In addition, using a glass shower screen can likewise minimise moulds and mildew appearance; hence, it is a hygienic option for the family. 
Improve Appearance 
Since shower screens are available in an array of designs, it will definitely improve the overall appearance of the bathroom. Most shower screens look chic and sleek, adding a modern touch to any type of bathroom either small or big. A shower screen in Singapore can make the bathroom space appear more polished and unified as they allow other designs to pop. Shower screens can effortlessly complement with any styles or colours you desire to incorporate into your bathroom. For instance, if you want to have a modern theme, it can blend in perfectly with black or white finish decorations. 
Makes Bathroom Desirable 
If you install a glass shower screen into your bathroom, it can create an air of elegance and style. Glass is always associated to class, and shower screens are not different. A clean, hygienic and pleasant bathroom will certainly become more desirable to use. So, you will surely spend more time taking a shower or preparing every day. Furthermore, these shower screens can increase the value of your home if you wish to sell it in the next few years.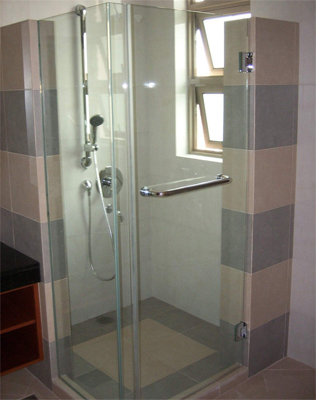 Low Maintenance 
If your bathroom is always flooded with water, then it should be cleaned regularly to eliminate germs that tend to dwell in moistened area. However, if you install a shower screen Singapore, you can isolate the water into the shower area and will need to clean that particular section. Shower screens require less maintenance so you don't have to spend more hours cleaning your bathroom. You only need to clean the glass to remove water spots and soap residue. If you install frameless screens, they are even easier to clean and maintain since you can access the entire panel and there are no metal parts to worry. Installing a shower screen in Singapore has plenty of benefits to enjoy.